The American Fire Sprinkler Association (AFSA) is a non-profit, international association  
representing fire sprinkler contractors,

dedicated to the educational advancement of its members and promotion of the use of fire sprinklers.

AFSA was organized in 1981 to provide the open shop fire sprinkler contractor with training, consulting, representation and more services, which AFSA continues to expand. Membership is open to contractors, manufacturers, suppliers, designers and AHJs.
I wanted to personally thank you for putting on great seminar. The breakfast, break, parties and the hospitality were perfect.
I just want to congratulate you on a job well done with all aspects of the convention & seminar. It was a refreshing "step up" from years past. I was pleased with TYCO's participation and the response received. Great job!
Congratulations on putting together a great conference for your membership. The speakers were engaging and informative; the entertainment was fun, geared to your audience, and went over very well based on other comments I received. You've taken it to another level and I look forward to attending more AFSA – Florida events in the near future.
Great ideas and great planning.
Very nice job on our fall conference Carolyn.
AFSA acts as a liaison with other national associations involved in fire safety. Working together with government agencies, such as the Federal Emergency Management Agency, the National Fire Protection Association, the Residential Fire Safety Institute, and the Home Fire Sprinkler Coalition, AFSA helps to create an awareness on the dangers of fire.
Currently, AFSA represents approximately 750 companies and individuals in the United States and throughout the world.AFSA believes that the installation of fire sprinklers could save thousands of lives and billions of dollars lost to fire each year. Increasingly, public officials are realizing this.
Fire Safety Online Continuing Education
If you are looking to continue your fire safety eduction through courses approved by the Fire Safety Board and the Florida State Fire College, now you can take ETI training courses anytime, from anywhere with an Internet connection!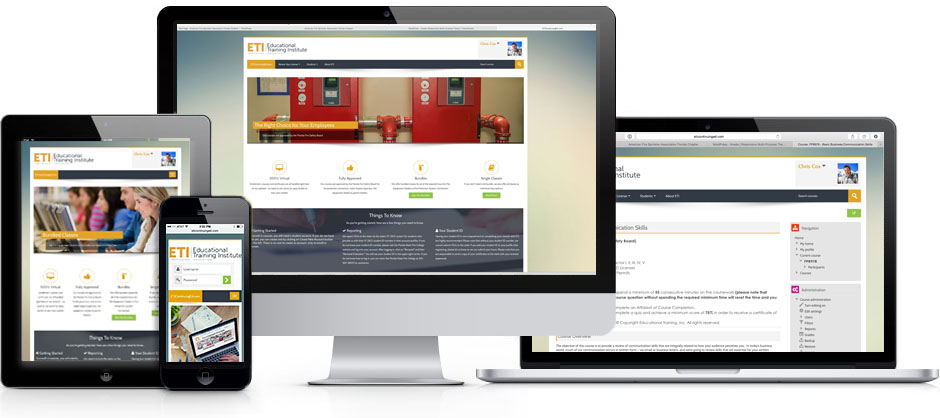 ETI offers online continuing education courses for Fire Protection Contractors, Water Based Inspectors & Fire Equipment Dealers / Permit holders. All courses are approved by the Florida Fire Safety Board (State Fire Marshal's Office)